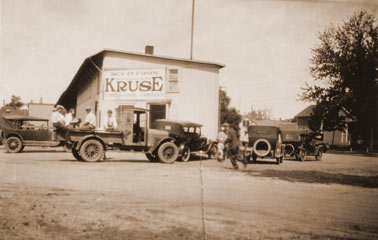 Kruse Lumber was founded in 1915 by Henry Johannes (H.J.) Kruse and was originally called Kruse Lumber and Coal. H.J. worked for a lumberyard in Preston, IA from 1906 to early 1915 when he left to take care of his sick wife, Evalena (Eva). In June 1915 they came to Rochester to have Eva seen at the Mayo Clinic. While walking from the train station to their boarding house Eva commented, "I would not mind living in a place like this." That prompted H. J. to start studying the feasibility of opening a lumberyard in Rochester.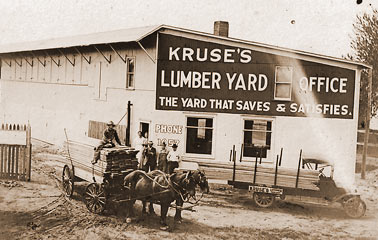 After several months of study and getting to know the community while Eva recovered from surgery, H.J. chose a spot for their new lumberyard at 112 East Winona Street now known as Seventh Street NE. He paid $1,500 for two large city lots and started building in the fall of 1915. That building still stands today directly across the street from the current lumberyard.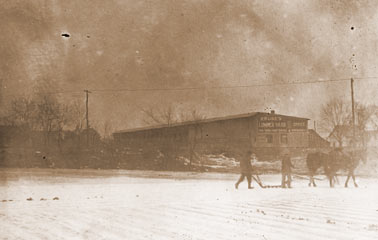 In the winter of 1915-1916 H. J. saw some farmers cutting ice in the "mill pond" (now Silver Lake) across the street. He talked to them and sold two barn jobs-his first sales in Rochester. He wasn't able to sell anything else until spring arrived in 1916. The first house job sold that spring, less plaster, cement and hardware was for $525. In the next nine days he sold a total of ten new houses. He said, "The jamb was broken." He felt that the basis of his service was at all times, "a fair deal to our customer." H. J. took Kruse through World War I and the Great Depression.
In the 1930's H.J. hired Joe Gores as his accountant, Ed Daleiden as his office manager and Oscar Allerton as an architect. He found all three of them to be very valuable employees. In 1943 when World War II was escalating and building regulations were getting to be too overwhelming, H.J. felt the company needed direction from younger and stronger men. He sold the company to Gores, Daleiden and Allerton.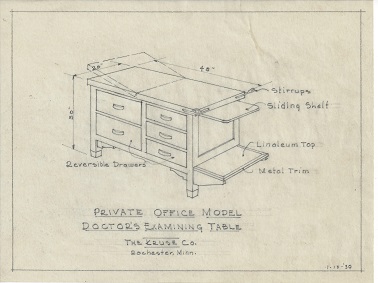 These gentlemen carried on H.J.'s vision of offering fair deals to the customer. They sold their shares in 1963 to their younger and stronger valued employees, Harold Hodge and Harold Payne. That partnership continued until 1983 when Harold Hodge took over the lumberyard. A Rochester native, Harold Hodge started at Kruse Lumber part-time in 1939 while attending RCTC. Following his discharge from the U.S. Navy in 1946 he returned full-time until 1989. He stayed on as a consultant until his passing in 1994.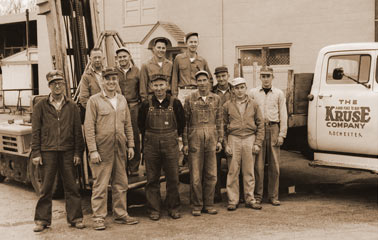 Hodge's son Brian took over as President in 1994 and continued in that capacity until 2021 when the business was sold to Shaw Acquisition Corporation. Del Krusenstjerna is currently serving as the President of the Company.
Kruse Lumber has been involved through the many years in land development, new home construction, remodeling and manufacturing. Today, Kruse Lumber, as Rochester's oldest independent building materials supplier, best serves these markets by providing quality building materials to building contractors, remodelers, deck builders and the home improvement market. We belong to LMC, a national buying group that purchases over 8 billion dollars from lumber mills and manufacturers. This purchasing power provides us with very competitive pricing. Or as H. J. would say, "A fair deal".
We are very proud that we have an average staff tenure of over 15 years and our salesmen have been in the building industry an average of 24 years each. This provides us with the knowledge and expertise to help you, our customer, with most any building project. With this experience and our long history, our customers can be assured that Kruse Lumber will be here long after the sale.